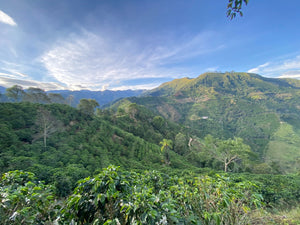 A farm committed to innovation in the name of environmental stewardship—resulting in some of the finest coffee we've ever sipped and shared with you…backed by a feel-good mission.
1,500 meters | Ciudad Bolívar, Colombia's Antioquia Region
Coffee Review scored Hub's Santa Elena offering at 92 points. It's easy to see and taste when you try Santa Elena. Such an elegant coffee
Founded in 2000 by Samuel Roldan and Paula Concha, Finca Santa Elena is located in a traditional—and incredibly well known—coffee town in the heart of Antioquia's coffee mountains. From plant to processing—the farm features an array of innovations, including an ecological depulper to use less water and prevent contamination, incredibly clean and organized fermentation tanks, and a solar dryer made of glass over a metallic structure.
After the picking, cherries are floated to remove defects and then brought to the solar dryer with raised beds. Once on the raised beds, the coffee is kept in thin layers and turned every two hours to guarantee an even drying process and avoid any defects or problems from excess moisture. The dryer also controls moisture and temperature automatically and keeps the drying process even day and night. The drying process takes 20 to 25 days.
This farm epitomizes efficiency and environmental stewardship—two things that are incredibly important to HUB as we seek mindful farmers to partner with. We're proud to source from Samuel and his team—a group that's deeply committed to leading the charge on reducing impact and controlling waste. (And their commitment to environmentalism isn't just confined to what goes in your cup. The coffee-cherry compost their farm produces is used to create biofuel, a revolutionary step towards sustainability.)