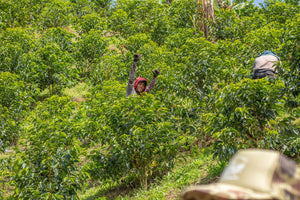 The farm that fosters our goals, fills our need for fresh air, and fuels our passion for bringing you the finest coffee.
1,700 meters | Pitalito, Colombia
Las Nubes' excellent location and ideal environment allow us to produce truly extraordinary coffees. The combination of the air currents that come from the Laboyos Valley—and the fresh mountain air from the natural reserve that surrounds our farm—make for ideal growing conditions…and the kind of weather that keeps us outside checking our crops with a smile on our face for hours on-end.
With a panoramic view, we're lucky to witness the best sunsets in the city from nearly anywhere on this farm. Without a doubt, it's a home-away-from-home that gives us the opportunity to walk on green and dream in coffee. But even more so, it's a place that reminds us of what this work is all about: adventure, exploration, community building, and legacy. This farm plays a pivotal role in the continued growth and transformation we're committed to. It's what allows us to fill your cup with quality, versatility, diversity, and a variety of aromas and flavors—while making a positive impact along the way.
We are proud to nurture and grow our goals for HUB here—in a place that fills us with curiosity and happiness today, and will live on for generations to come.